Basic Handyman Services in Orlando & Central Florida
---
Professional and dependable Commercial Basic Handyman Services in Orlando and throughout the Central Florida area for over 10 years.
---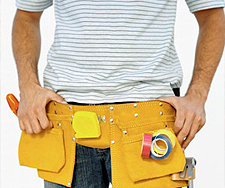 As a property service company, Allstar Property Services also provides basic handyman services in Orlando and Central Florida, as well as our other property services. At every job we strive to provide the highest standard of professionalism and due care for each of our clients property service and basic handyman service needs.
We are able to perform our basic handyman service duties when it it most convenient for you and your business to ensure we do not interrupt your business operations or present a burden for your consumers. We understand that maintaining a safe environment for your business and your customers is important to your reputation and the safety of all.
Maintaining a clean and safe environment may help eliminate potential premise liability and safety hazards, and we will inform you if we discover any potential material hazards which may potentially become a safety hazard in the future as well.
Contact Allstar Property Services by calling 407.894.7292 regarding your basic handyman services needs in Orlando and the Central Florida area.
Our professional Orlando and Central Florida Basic Handyman Services include, but are not limited to:
Concrete curb and sidewalk repair;

Gutter clean out and repair;

Graffiti removal;

Light bulb Replacement;

and other basic handyman services.
We provide our basic handyman services for:
Commercial Properties;

Retail Stores;

Shopping Centers;

Malls;

Office Parks;

Industrial Parks;

Hotels;

Construction Companies;

Apartment Complexes;

Apartment Complexes;

Condo Associations;

Homeowner Associations;

Parking Garages and Private Parking Lots;

Hospitality Industries;

Lifestyle Centers;

Theme Parks and Attractions;

Developers;

and other business property.
At Allstar Property Services you will never have to worry about hidden fees or cost, as our management team will provide you a quote up front, before accepting any basic handyman service job. We believe in a operating our business by creating trusted and long-lasting business relationships, providing superior basic handyman services and other property services, and performing our duties in a timely and professional manner.
If you require experienced, dependable, and affordable Orlando and Central Florida basic handyman services, Contact our office today at 407.894.7292.
---
Orlando Basic Handyman Services, providing Orlando and Central Florida area business and commercial property Basic Commercial Handyman Service needs for over 10 years.